We had some excited children make a discovery whilst observing leaves in the garden.
The children noticed that two leaves connected to the petiole from underneath. These children had discovered something completely for themselves, and were showing intense interest in learning more.
They couldn't agree on the shape of the leaves so I suggested that perhaps there were some materials that might help with that.
I had some laminated leaves from last autumn in the cupboard that I got out for them to compare as well.
There was some animated discussion about the different shapes and so we have organised a lesson for tomorrow about leaf blades (which I wasn't planning on giving until next term - but follow the child).

You can find my FREE leaf shape nomenclature cards
HERE
.
You can also find my FREE mute and labelled charts
HERE
.
Linking to
A Little Bird Told Me
and
Montessori Monday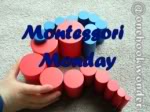 Follow Elementary's board Botany Round-up on Pinterest.